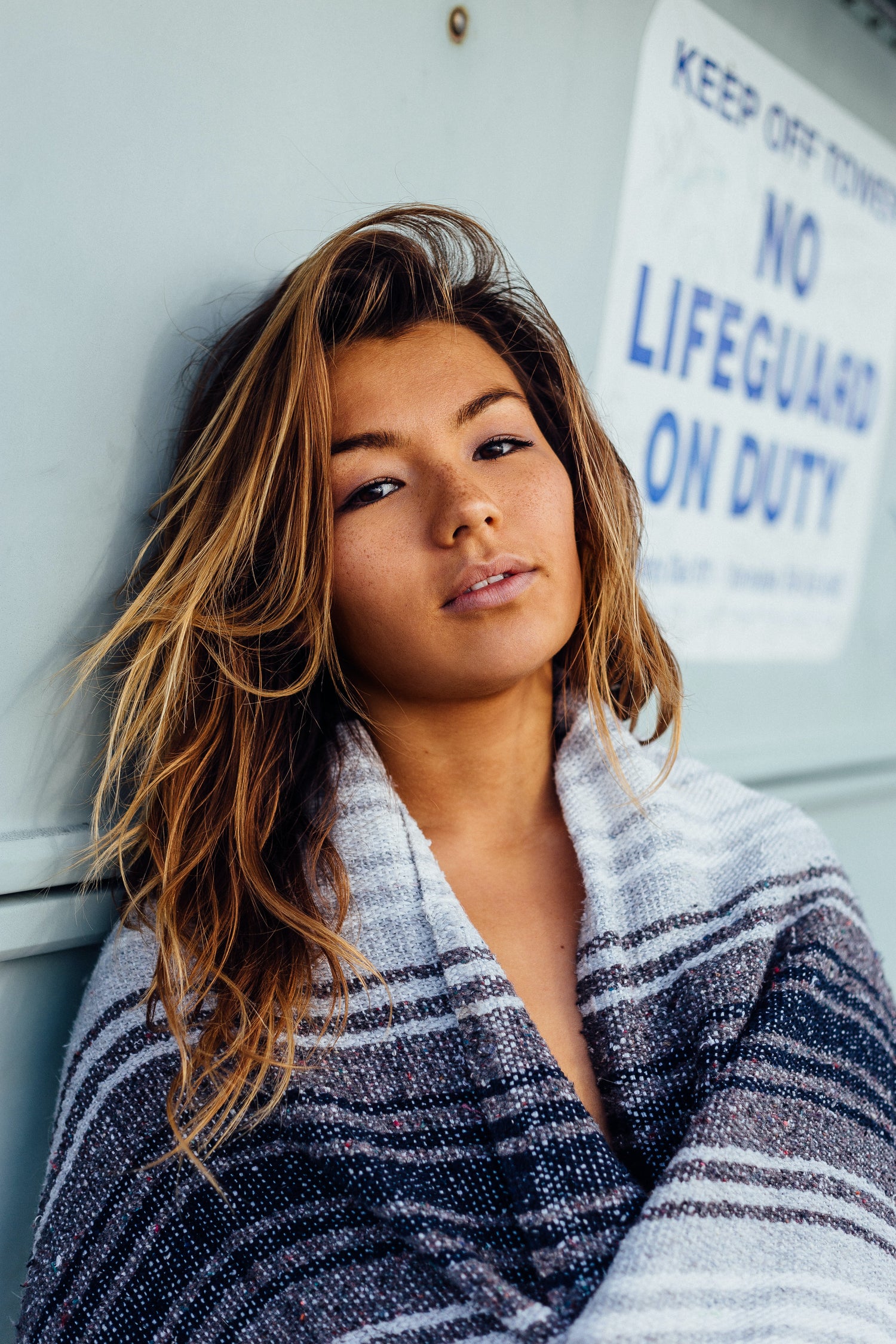 How to take care of colour treated hair
If you have colour-treated or chemically treated hair, it's important to know how to keep it in tip-top condition. When you colour your hair (especially if you're using bleach) you're raising the cuticles and damaging the hair bonds; over time, this can lead to permanently damaged and brittle hair.

In this guide, we're going to go over how you can take care of colour-treated hair and explain what a typical hair care routine should look like for those who've had chemical hair treatments. We'll also be sharing some of our top tips for keeping your coloured hair as healthy and nourished as possible, so let's dive in!
Don't have time to read it all right now? No worries - download the guide below so you can reference it whenever you want!
How to take care of colour treated hair
How does hair colouring cause hair damage?
Whenever you get your hair bleached, the stylist will typically use an alkaline agent to open the hair's cuticles. Once open, an oxidative agent will be used to get rid of your hair's natural pigment (the melanin). While this technique can turn your locks from mousy brown to platinum blonde hair, this process is highly damaging to the integrity of your hair strands.
Put simply, you're raising the cuticles and damaging the bonds inside your hair (and this process is necessary in order to achieve a lighter colour.) With the hair bonds damaged, you might find that your hair becomes increasingly brittle, dry, frizzy and unmanageable. 
Signs of hair colouring damage
Dullness

Brittle hair

Dry hair

Unmanageable, tuggy hair

Excessive split ends

Hair lacks shine
How to take care of colour-treated hair
To keep your colour-treated hair nourished and healthy, it's important to curate a haircare routine that combines hydration, gentle cleansing, and progressive hair repair. Even if your hair doesn't necessarily feel damaged yet, it most likely will become damaged if you continue colouring your hair (or if you coloured your hair a lot in the past.)
Here are just a number of steps you can take to ensure that you keep your colour-treated hair healthy:
Minimize use of hot styling tools
Curlers, rollers, straighteners, and even hair dryers - it's a good idea to take a break from your hot styling tools when you have colour-treated hair. This is because heat damages the hair and makes it brittle with continued use; especially if you already have colour-treated or colour-damaged hair.
Like bleaching and colouring, heat styling can break the hair and reduce shine, so you'll want to minimize your use of hot styling tools as much as possible in order to avoid the appearance of dull, damaged hair. The easiest way to do so is to let your hair dry naturally and use a leave-in treatment after a shower or a bath - not only will this prevent heat damage, but it will prevent frizz. 
Our Hair Organics Moroccan Argan Oil Leave-in Treatment uses a mix of Argan oil and Coconut oil to naturally hydrate, nourish, and smooth the hair. Argan oil offers long-lasting scalp hydration and conditions the hair as it dries, while the coconut oil helps smooth flyaways and control frizz. You can apply this leave-in treatment after gently towel-drying the hair; apply all over the hair, tie up and let your hair dry naturally. 
Benefits of Argan Oil
Argan oil has been long-used in hair care products to provide shine, hydration, conditioning and nourishment. Here are just a few benefits of using argan oil on the hair:

Rich in antioxidants

Rich in fatty acids

Natural hydrant

Rich in Vitamin E

Helps restore shine and bounce

Lightweight 
Always use a thermic protection spray
If you're going to be using hot styling tools, it's necessary to always use heat protection spray or a heat protection cream. Some hot styling tools now come with in-built "hair-safe" temperatures, but to be safe, you should always use a heat protection spray - even when you're simply using a hair dryer.  
Keep your hair hydrated 
When you have colour-treated hair, you might notice that your hair often feels drier, more brittle, or has a rougher texture than usual. This is because bleaching dries out your hair, so it's important to keep it adequately hydrated with nourishing creams, leave-in treatments and oils.
Alongside our leave-in treatment, we also have our Moroccan Argan Oil Hair Food, a nourishing hair treatment that is designed to help prevent and treat dryness, frizz, hair breakage and hair brittleness. Formulated with Argan oil, coconut oil and conditioning shea butter, this hydrating blend can help ward off any hair damage and leave your locks feeling silky, shiny, and soft-to-the-touch.  
Don't overwash your hair
When you have colour-treated, chemical-treated or colour-damaged hair, it's important to not overwash your hair. Overwashing the hair can lead to prolonged dryness, as you're repeatedly stripping the hair of its natural oils. For chemically-treated hair, we'd recommend washing your hair 1-2 times a week with a gentle shampoo.  
Wash your hair in tepid water, not hot water
One habit that can largely improve the quality of damaged or colour-treated hair: washing your hair in tepid, room-temperature water, rather than washing your hair in scalding hot water. The reason? Scorching hot water dries out your hair and inflates your hair cuticles, which causes frizz, dryness, and makes your hair more difficult to manage.
While it might seem impossible to consider taking a tepid shower in the middle of winter, you can always simply go for the old-school method and wash your hair using a jug of water and the bathroom sink. Your hair will thank you for it!
Creating a hair care routine for colour-treated hair
Now you know how to look after colour-treated hair, what should your typical hair care routine look like? Here's what we recommend:
Gentle washing 1-2 times a week
Washing colour-treated hair more than twice a week can dry out the hair fibers and leave you with dull, rough-textured and hard-to-manage hair. We'd recommend using a gentle shampoo, such as our Herbal Conditioner - the formula is enriched with soothing Aloe and Ratchette, and won't dry out chemically-treated hair.
Never skimp on conditioner
For those with oily hair or thinning hair, you might sometimes skimp on conditioner to avoid that heavy feeling on your hair. However, when you colour-treat your hair, conditioner is no longer simply an option, it's a requirement. Our Moroccan Argan Oil conditioner is designed for those with chemically-treated hair; to add moisture, create shine, and create hair that feels soft, smooth and silky to-the-touch. 
Use a leave-in treatment at least once a week
For some intense hydration, make sure to use a leave-in treatment at least once a week. This will give your hair some much-needed moisture and prevent tangling and brittleness.
Add shine
For those with colour-treated hair or damaged hair, a lack of shine and an overall "dullness" is typical - this is due to the dryness and the lack of natural colour pigment in your hair. You can overcome this by using hair oil; hair oils are lightweight and easy to use, and can be applied to wet or dry hair to give it a boost. Our Moroccan Argan Revitalizing Oil is formulated with natural argan oil and coconut oil to add sheen and bounce to the hair, while nourishing the hair bonds with the oil's conditioning properties.
Bottom Line
Having coloured hair doesn't mean you have to put up with dry and brittle locks - so long as you keep your hair healthy, nourished, and moisturized, you shouldn't experience prolonged problems with damage.
Shop the Coloured Haircare Routine Products