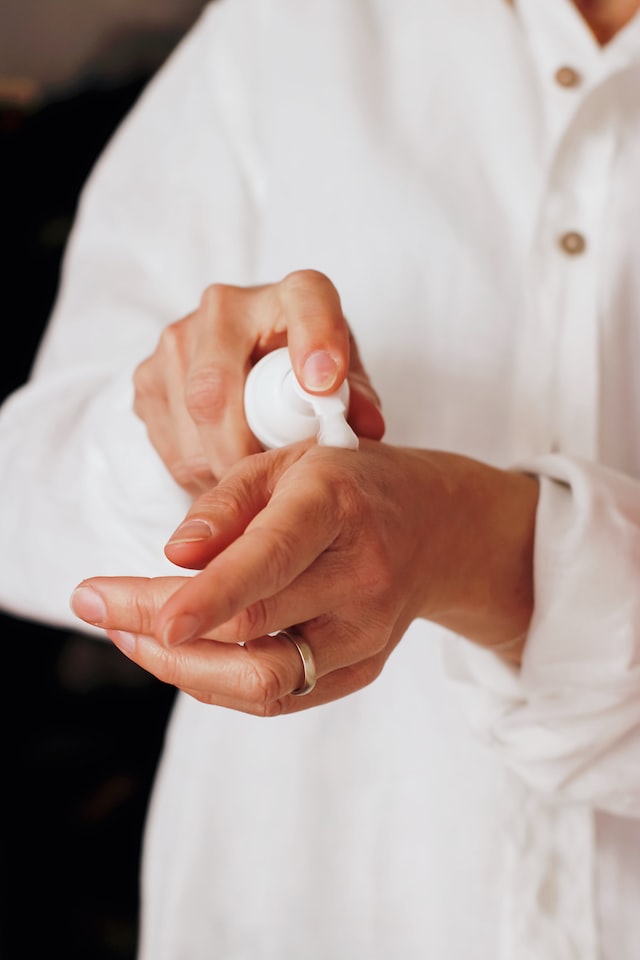 The Best Skincare Routine for Oily Skin
Do you have any of the following? 
- Excess shine (not to be mistaken for a normal glow, but an excessive, oily shine to the skin).
- Your make-up might not last very long on your skin - you might even find it difficult to apply certain liquid foundations.
- You might suffer from frequent breakouts.
- You possibly suffered from acne as a teenager.
- When you wake up in the morning, your skin feels slick, greasy or oily, and you feel the need to wash it right away.
If you do have any of these, you may have oily skin. In this ultimate guide to oily skin, we've gathered all the information you need to know about achieving a shine-free and blemish-free complexion. From listing the best skincare products for oily skin to explaining all the skincare ingredients to avoid if you have oily skin, we've covered everything you need to know.
Keep reading to learn more about getting a handle on your skin care routine for oily skin!
Don't have time to read it all right now? No worries - download the guide below so you can reference it whenever you want!
The Best Skincare Routine for Oily Skin
What is oily skin?
Oily skin is typically categorized as skin that is shiny and can become slick or "greasy" easily.
Oily skin is perfectly normal and one of the most common skin types. If you have oily skin, your key skincare concerns are probably enlarged pores, shine control and pimples.
If you're not sure whether or not you have oily skin, you can take our free skincare test here and find out your skin type.
What causes oily skin?
Oily skin itself is caused by an overproduction of oil, also known as sebum. While some people simply just have naturally oilier skin than others, several factors can contribute to an excess in sebum and cause oilier skin: 
Diet.

A diet rich in sugar can contribute to (or worsen) oily skin, as sugar increases your glucose levels. Increased glucose levels in the body will increase the amount of sebum your skin produces, leading to an oilier complexion. Additionally, foods high in saturated fats can cause inflammation, and inflammation can also increase your body's production of oil. 

Hormones

. If you suffer from hormone irregularities (such as PCOS), this can also contribute to the development of oily skin. For example, excesses in either estrogen or testosterone can spike your skin's sebum production, leading to oily skin (accompanied often by unwanted pimples.) 

Genetics.

Some people just have oily skin, and there's no lifestyle adjustment or skincare product that will be able to change it. Just like some people have naturally dry skin or acne-prone skin, oily skin is perfectly normal and very common. The key is to simply use the right skincare products to manage it, and adapt your lifestyle as you wish to prevent from exacerbating it.  

Stress.

We all know that stress is all-round bad for the skin and body, but it can also make oily skin worse. Stress hormones can trigger an excess in sebum production, worsening existing oily skin or causing breakouts in those with normal or dry skin. That's why you might sometimes notice a breakout during periods of stress or anguish; your body isn't kicking you while you're down, it's simply caused by an excess in sebum. 

pH imbalance.

Another reason for oily skin can be a pH imbalance. If your skin pH is too low, your skin is more likely to be oily and acne-prone. Lots of things can throw off your natural skin pH, such as using too many skincare products or wearing make-up that hasn't been pH-tested. You can test your skin's pH with at-home skin strips.
Our Ultimate Skincare Routine for Oily Skin
So, now that you know a bit more about oily skin and what causes it, we've created our ultimate skincare routine for oily skin to help you put your knowledge into action. 



Most effective skincare ingredients for oily skin
If you have oily skin, you'll need to use skincare products that are designed to both control excess oil production while also clearing the skin of any sebum to prevent breakouts.
There are several skincare ingredients that can help control oily skin: these ingredients are either natural antiseptics or ingredients that can help curb or decrease excess sebum production. In the Cher-Mere products we use: 
Moringa.

Moringa has antibacterial properties that may help to minimize blemishes, dark spots, pimples and blackheads.

Oatmeal.

Oatmeal helps to hydrate and nourish the skin.

Teatree.

The anti-inflammatory properties of tea tree oil soothes the skin. 

Charcoal and clay

. Charcoal is a natural skin purifier, ideal for use in cleansers and masks.

Sage

. Another natural antibacterial herb, Sage can be used to clean the skin and help prevent oil from clogging the pores.
Skincare ingredients to avoid if you have oily skin 
Petroleum jelly

. Applying vaseline or other petroleum-jelly based skincare products to oily skin will only increase shin and clog the pores.

Coconut oil

. You'll want to avoid using coconut oil on your face, as it's highly comedogenic and can clog the pores and cause breakouts.

Alcohol

. Alcohol will strip the skin of its natural oils, which can cause your sebum production to overcompensate as a result, producing even more oil.
Choosing a cleanser for oily skin. 
Your first step in any oily skincare routine should be to remove your make-up. If you wear a lot of makeup, a double cleanse may be a great option. We would suggest first using our Natural Actives Makeup Remover followed by our Oatmeal Face Wash or Moringa Face Wash. 
The Natural Actives Makeup Remover with Lavender & Shea Butter is a non-greasy plant-based product that gently and effectively removes makeup, impurities and environmental pollutants to ensure the skin stays healthy.
Cher-Mère Moringa face wash with aloe, tea tree, and grapefruit, gently washes and cleans away impurities without drying the skin.  The skin feels revitalized, looks nourished and younger.  
The Oatmeal Cucumber and Passion Fruit Face Wash, with colloidal oatmeal that washes Wash away impurities while gently exfoliating the skin.  
Choosing a toner for oily skin
Once you've finished cleansing and patted your face dry with a clean towel, we'd recommend using a clarifying toner. We always recommend using toner on oily skin, as it helps balance your skin pH while also making sure your skin is completely clean.

For oily skin, we'd recommend using our Toner 1, which uses lemon oil and witch hazel to clarify, balance and restore your skin's pH to a healthy level. While toners can be applied using the fingertips, oily skin types might want to limit hand-to-face contact to avoid any oil transfers. Use a cotton pad instead and apply the toner all over the face. 
Exfoliate regularly 
The best way to prevent oil build up on your skin (which inevitably leads to pimples) is by regularly using an exfoliator. Our Moringa Facial Scrub is great for sloughing off dead skin cells and excess oil, and will leave your skin feeling purified and squeaky clean. We'd recommend exfoliating once every 2-3 days, but not every day as this can overwhelm the skin.
If you have super sensitive skin, scrub exfoliators might not be the best option - anything too abrasive can actually be counterproductive and lead to an increase in oil production.
Choosing a moisturizer for oily skin
To finish up a skincare routine for oily skin, we'd recommend using a lightweight moisturizer. preferably one with a non-greasy finish. 
Best day moisturizer for oily skin
Your skin needs to protect its natural barrier during the day; weather, pollution, exercise, and other environmental factors can all dry out your skin while you're out and about. 
Our  SPF15 daily moisturizer and SPF30 daily moisturizer offers sun protection while hydrating the skin with a mix of shea butter and aloe vera. Most importantly, it's a non-greasy formula. You can apply this moisturizer and create an oil-free, non-greasy base for make-up.   
Best night moisturizer for dry skin
It's important to use a rich moisturizer at night when you have dry skin. Environmental factors (such as air conditioning or cooler nighttime temperatures) can mean that your skin becomes more easily dehydrated during the night. 
Our Natural Actives Rejuvenate Night Cream offers both intense hydration and overnight revitalizing benefits; enriched with ceramides and formulated with rich cocoa butter, you'll wake up with skin that is smooth, refreshed and entirely rejuvenated. 
Facial Oil
Cher-Mère Natural Actives Facial Oil with antioxidant Vitamin Rich Avocado; Omegas 3, 6, 9 laden Hemp and detoxifying, calming Lavender may be the secret for fabulous looking skin.
It is an ideal choice for dehydrated skin or dry patches on the skin that keeps the skin hydrated, protected from the harmful effect of UV rays, rolls back environmental water-stripping of the skin, boosts elasticity and collagen. This product maybe used daily after cleansing and toning and before using a moisturizer. 
Best Face Masks for Oily Skin 
For the best skin care results, masking once every week is a wonderful way to help control excess moisture. For oily to combination skin, we have two masks that work best, the Aloe and oatmeal mask and the Moringa mask. 
Cher-Mère Moringa Mask is naturally rich in vitamins, minerals, amino acids and phytonutrients for purifying and clarifying the skin. The Moringa mask brightens and renews skin. Oily Skin Tips and Tricks
Cher-Mère Aloe and Oatmeal Mask helps to deep clean by drawing to the surface of the skin impurities such as whiteheads and blackheads. The mask helps to minimize pore size and shed dead skin. It is the perfect addition to a weekly skin care routine. 
So, there you have it! A complete skincare routine for oily skin. 
Managing Oily skin: Tips and Tricks 
To prevent breakouts and keep oily skin under control, here are our final tips from the Cher-Mère team:
Use light products.

 Products that are light and gentle  on the skin and less likely to clog the pores and cause breakouts.

Drink lots of water.

Do drink lots of water and avoid beverages high in sugar when you're dealing with a breakout. 

Change your pillowcase.

Frequently change your pillowcases and bedding. If you have oily skin, you might often leave oil residue and bacteria on your pillowcases, which can transfer to your skin later on and clog the pores.

Do remove your makeup.

Don't sleep with your make-up on. You'll clog your pores and cause pimples, while also destroying your skin's barrier and pH. Once your skin's barrier is damaged, it's much more difficult to control your skin's oil production.

Do use sunscreen.

You still need to protect your skin from the sun's harmful UV rays when outdoors, so we'd recommend using Cher-Mere moisturizer with SPF. 

Don't abuse skincare products

. Overusing scrubs, masks or other skincare treatments can actually worsen oily skin, not improve it. If you constantly strip your skin of its natural oils over and over again, the skin can often double down on sebum production. By creating even more sebum, you're only exacerbating the problem. 

Do moisturize your skin.

While it might seem unnatural to apply a moisturizer to oily skin, it's essential to do so. Providing adequate hydration to your skin will prevent the skin from overproducing oil itself to compensate. 
What treatments exist for oily skin?
At Cher-Mère, we offer several facials such as our Aromatherapy facial, Microdermabrasion facial, Brightening and Firming Seaweed facial designed to cleanse and nourish the skin. We use a deep cleanse, an exfoliation treatment, deep steaming and pore cleansing to reduce sebum, remove bacteria and restore a healthy skin pH to the skin. You can book your facial here.
Shop the Oily Skincare Routine Products